A service level agreement is a contract between the service provider and the customer (business) which defines the standards of service deliverables that the provider has agreed with the customer. In relation to Customer Support, Service Level Agreements are the timeframes agreed with customers for responding to their queries. These queries are usually based on your business functions, for example, support, servicing and upgrades. Essentially, it is important to differentiate when to call out an issue as critical or high, identify the impacted parties (internal or external users), assess the level of impact when a ticket is created. The tickets are organized and prioritized based on business factors. The optimal prioritization method is different for each company and depends on several factors. Your organization may choose to stick to one SLA or multiple SLA or to change models when necessary based on business requirements. The focus of ticket prioritization should be to provide the most effective customer support for end users. Whether you are delivering services to other businesses or directly to customers, focus on problem solving, communication strategies, self-assessment, training of agents in order to improve and sustain customer satisfaction and business relationships.
Escalation: If a ticket is not resolved within the specified time frame, the SLA will typically include a set of procedures for escalating (agreed between service provider and client) the issue to a higher level of support. For example, if a ticket is not resolved within 48 hours, it might be automatically escalated to a more senior support team.
Importance of SLA
When it comes to customer satisfaction, quality of service delivery is the highest concern. Service level agreements help to set standards for better service delivery.
SLA's are used to ensure that the support team complete a ticket in a defined amount of time.
SLA's help in improving the quality of service delivery with faster ticket resolution time.
Deliver specified service products to targeted customers to meet customer-driven quality, schedule.
Empowering employees or agents to work in an environment with quantifiable actions makes them feel better to track the progress on the issues.
When crafting the SLA with your customer, you must, at minimum, discuss and define support eligibility, coverage, access and beyond the scope of, your support offering.
Multiple SLAs
Service-consumer governance is one of the biggest challenges in the service industry because organizations have no way of knowing which consumers are using which services, and what SLAs they are receiving. The multiple SLAs feature of raiseaticket helps organisations to assign SLA in the right manner to the clients in order to use the support service.
Multiple SLAs can be set up based on the email address or domain following your unique business hours.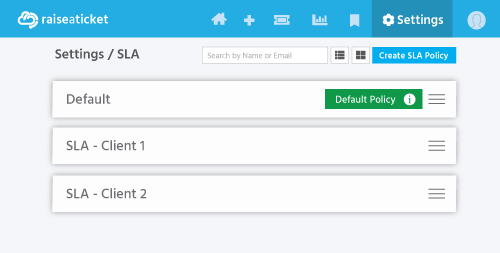 SLA Breach and Reminders
SLA maintains accountability among your support agents, as you can easily track who is breaching the SLA's.
SLA reminders could be set up for the upcoming SLA breaches by navigating to the SLA Breach Notification. Notifications can be run once every 10, or 15, or 20 or 30 minutes. Admins and agents are notified for response and resolution breaches.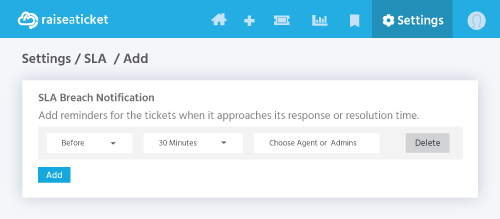 SLA Metrics
Timeframes in SLA's are defined with the help of SLA operational metrics:
Time Tracking
The amount of time the agent spends on a ticket. This is calculated by aggregating the total time spent in the detailed view of the ticket opened on an active browser tab, edit mode, replies and notes.
First Response Time
The duration between the timestamp a ticket is created and the timestamp of the first agent's reply on that ticket.
Resolution Time
The time tracked between the ticket creation and the time of the final status change to closed. The above time also would include the time tracked in case if the ticket is reopened and then closed again.
SLA Features
Association with operating hours
Raiseaticket SLA policies are associated with the operating/business hours of your organisation to set the timeframes for responding to customer queries. By default, Raiseaticket has a 4-hour response, 5 days per week, 8 hours a day, including holidays as the default SLA.
Raiseaticket has the ability to edit or create new operating hours according to your business requirements and it should be revised with SLA policies to update response time.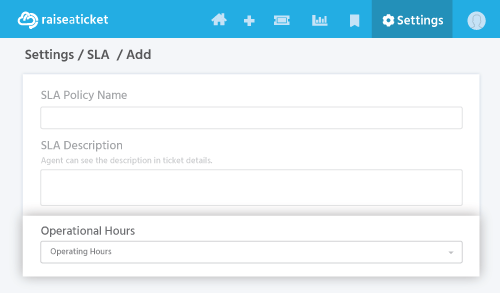 SLA Priority
Priority is the importance given to a ticket based on the SLA. Raiseaticket by default, has four types of priorities: Low, Medium, High, and Urgent. You can add further priorities for your requirements.
Tickets with low priority are the least important, while urgent tickets should be dealt with as soon as possible.
Set the default priority on the web portal and email channel for incoming tickets.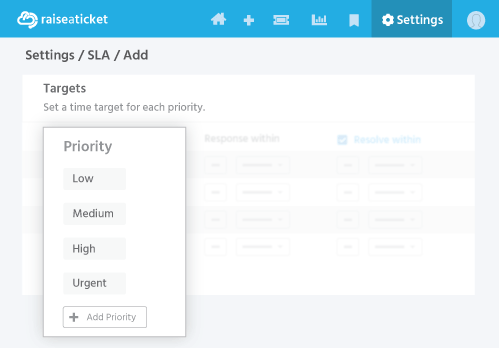 SLA Time Targets
SLA time targets (response time and resolution time) each priority defines the handling time for tickets based on your work schedule, operating hours and client agreements.
When working on a ticket you may need to await further details from the end user or a supplier, in these cases you can pause the SLA by selecting a status that has the SLA timer disabled. You could name this status "Awaiting customer reply" for instance.
Raiseaticket has the option to disable resolution time on tickets. The tickets will have only the response time enabled for SLA. By default response timer is required for the SLA.